KAUST: Creating the smart home of the future
KAUST: Creating the smart home of the future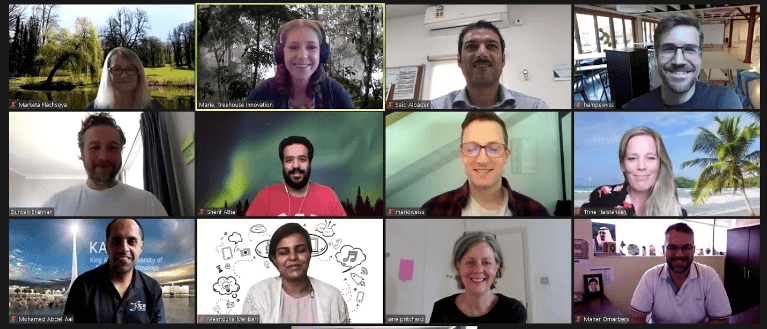 Background
World-renowned King Abdullah University of Science and Technology (KAUST) in Saudi Arabia is located on the Red Sea. On the KAUST campus, there are approximately 3500 homes for international residents including students, faculty members and their families from about 100 different countries. The KAUST Smart team asked us to help them take a design thinking approach to developing a useful, intuitive, adaptable and delightful living experience in the first KAUST Smart Home.
The challenge
How might we provide all members of the community with a useful, intuitive, adaptable and delightful smart home experience?
When designing a smart home, there is always a risk of focusing primarily on the technology to be integrated into the living space. But KAUST wanted us to help keep the voice of the resident at the heart of every decision they made, and ensure the design would create a really positive living experience for them. They were mindful of the need to engage the residents in this development process, find out about their current living experience, and then design a home that would meet their needs.
The KAUST Smart team was already familiar with design thinking. They wanted to work in partnership with us to instill greater confidence across the team whilst applying the approach to this challenge, help them to build real empathy with residents, and ensure the end design would deliver a compelling resident living experience.
How they did it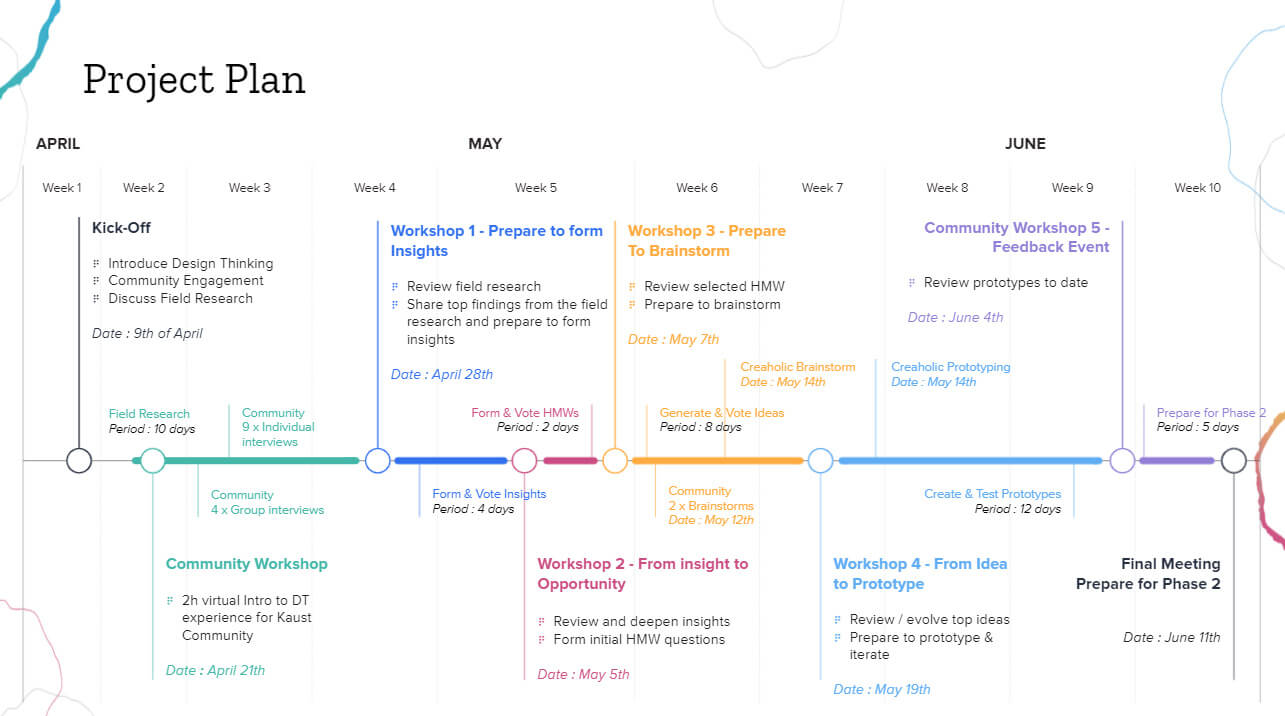 Phase 1
Just as we were getting ready to fly to Jeddah, the COVID-19 crisis began. Thankfully the client was open to working with us remotely and so the entire four-month project was moved online.
We kicked off the project with a Design Thinking 101 event run on Sprintbase – the remote innovation platform. 75 members of the KAUST community were introduced to the innovation process and engaged with the design project we'd be working on together.
In parallel we launched into an extensive two-week insight and empathy building program, in which we worked alongside the KAUST team to find out what matters to their residents and what they want from their future living space.
Our extensive field research included approximately 12 one-to-one interviews, eight group interviews, ten photo diaries and multiple online workshops with local stakeholders.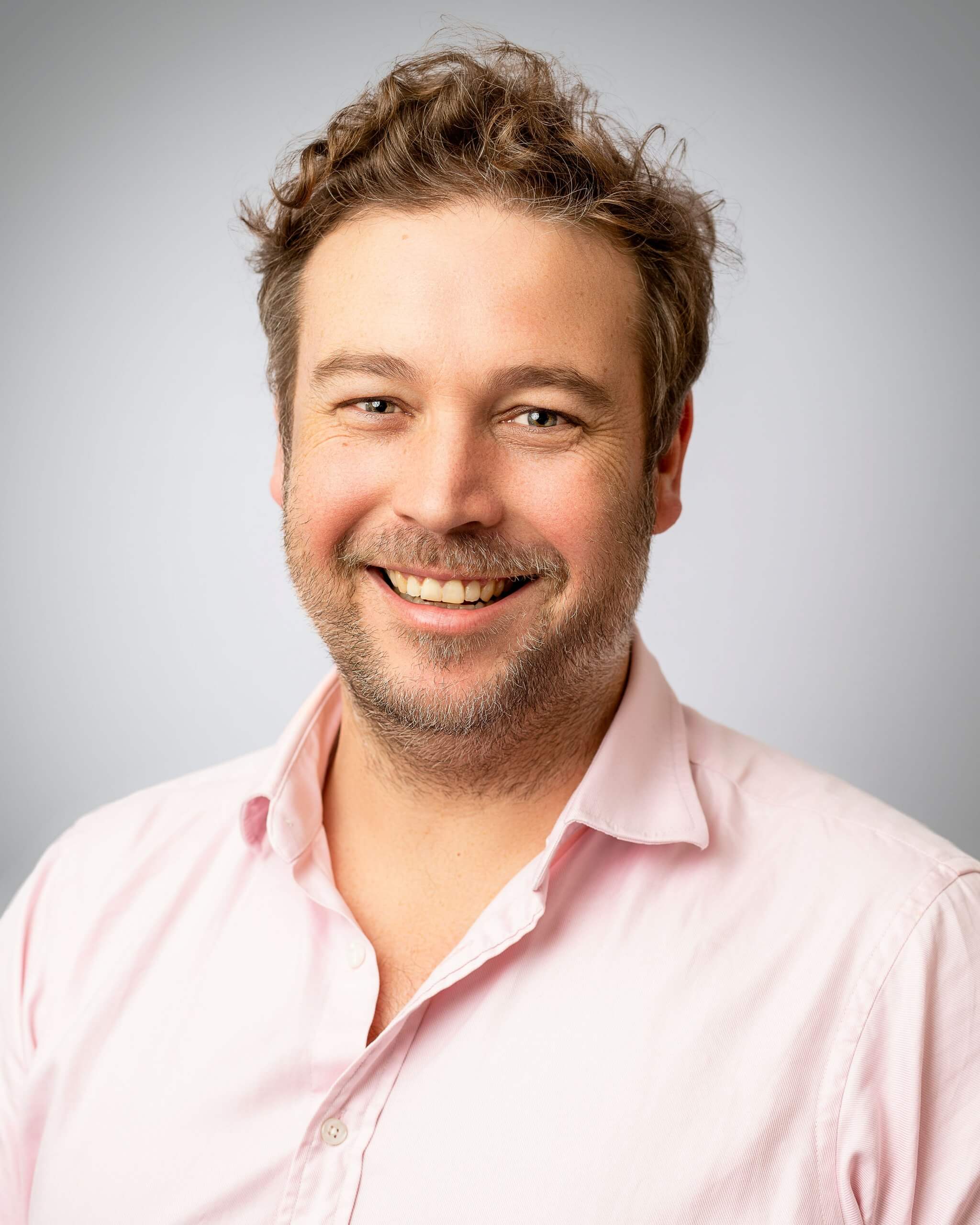 "One of the things that stood out most to me about this project was the willingness of the community to engage with this project, and the openness and transparency of the KAUST team with its residents. It was fantastic to see and had a huge impact on the depth of insights we were able to develop."
Duncan Brannan, Partner, Treehouse Innovation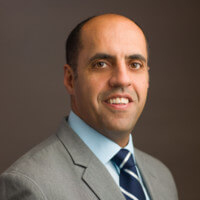 "At first taking on designing a smart home experience completely virtual was quite daunting but it really turned into a great opportunity for the community to direct their energy into something different and creative at a time where many felt the heavy impact of the pandemic."
Mohamed Abdel-Aal, Director, Digital Experience and Innovation (KAUST Smart)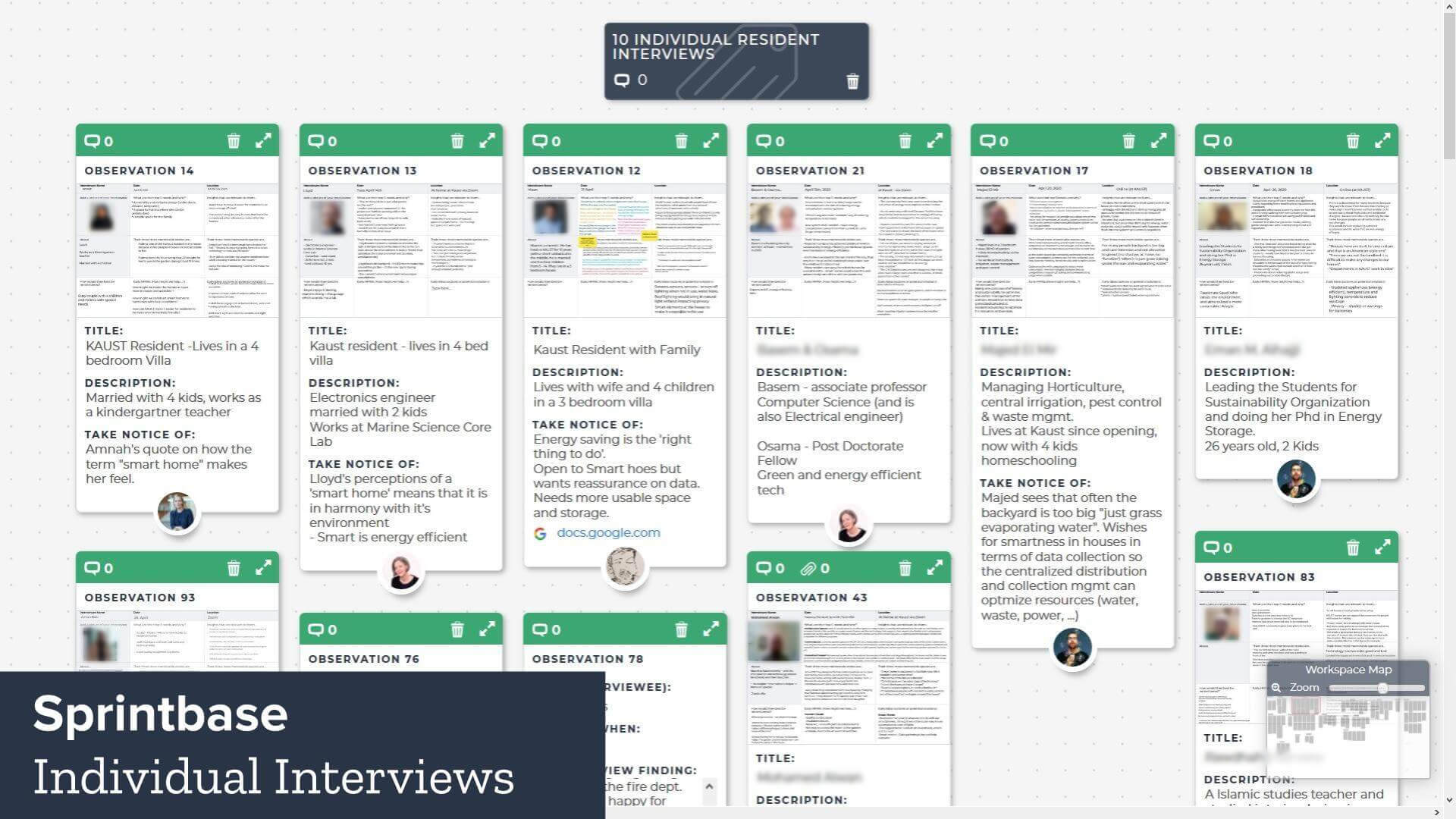 This research uncovered a whole range of insights about people's views and needs when it comes to privacy, social space, accessibility, connecting to nature, customization, managing resources efficiently and sustainability.
These conversations also highlighted that whilst this community consists of people from 100 different nationalities, there are key things that connect everybody living here. The academics who have travelled to this location to carry out research and develop innovations that will help make the world a more sustainable place share common character traits of curiosity, exploration and openness to new cultures and ideas.
The top priority for everybody we spoke with was that any future accommodation had a minimal impact on the environment. Whilst they were also interested in exploring the possibilities presented by new technologies, what mattered most to them was that any new living spaces are sustainable and energy efficient.
We also discovered that KAUST residents weren't using their outside space. This is either down to privacy issues presented by where balconies and gardens are positioned, or the fact that the weather and environmental context makes it difficult to spend time outside. So, we needed to find ways to enable them to access the outdoors given the local environmental factors and extreme heat which the country experiences for six months of the year.
The 80+ insights we developed informed a set of six strategic design principles for KAUST to apply to the design and build of the smart home.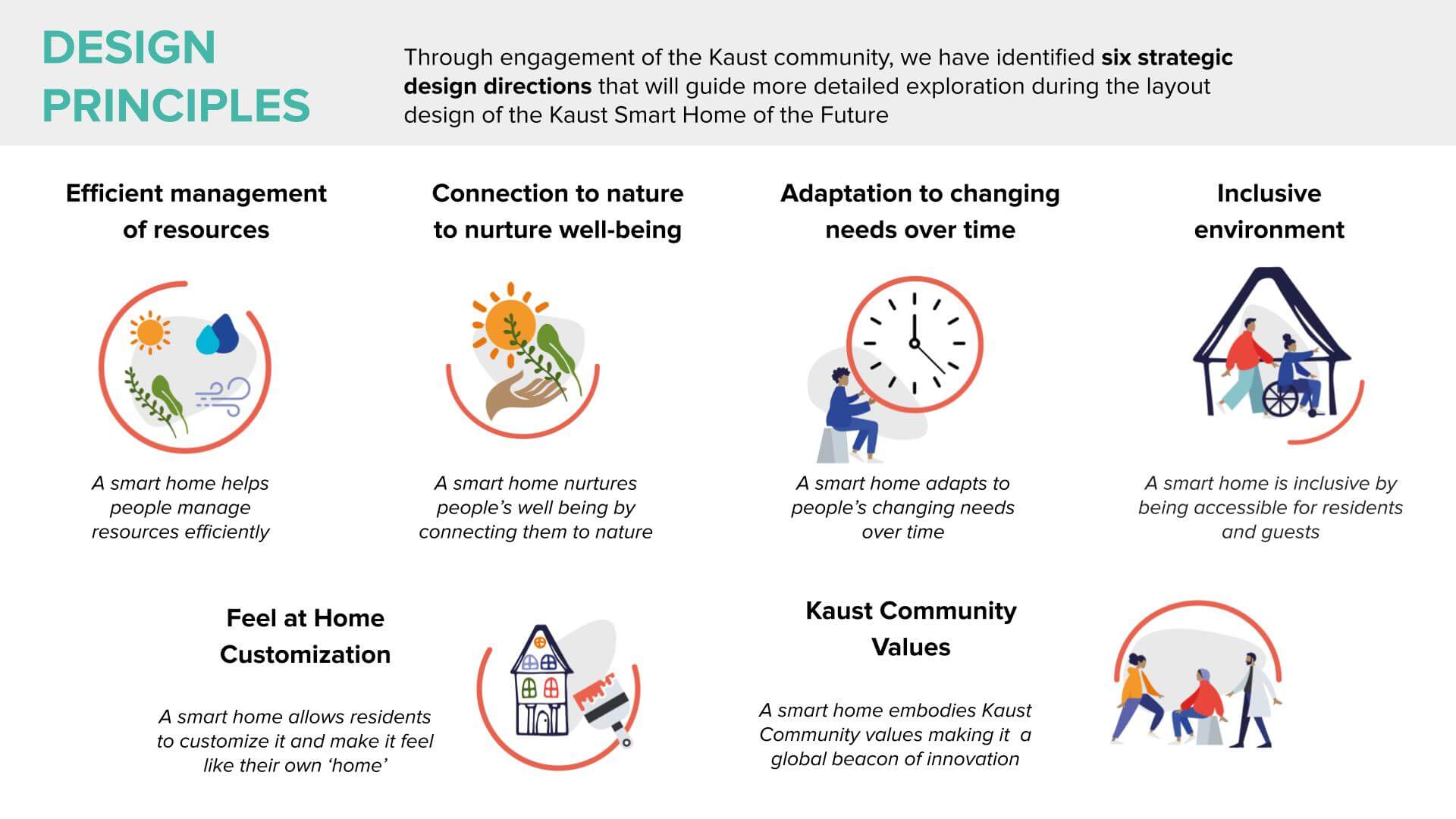 We created multiple 'How might we' questions for each principle so that together we could further develop what the living experience in this new smart home would deliver to its residents.
When it came to brainstorming ideas for what the home might look like, we invited 60 people in the KAUST community to take part. We did this for three reasons: 1) to ensure that the process had a diversity of input throughout, 2) to help keep residents informed about what was happening with the project and why, and 3) to maintain momentum and enthusiasm in the broader community.
The core team – which consisted of around 8 people – then produced prototypes of the best ideas, in the form of sketches and storyboards, which were also shared with people outside the team for feedback and to help iterate to better solutions.
At the end of this first phase of the project, the team walked away with a human-centred layout blueprint for the KAUST Smart Home of the Future.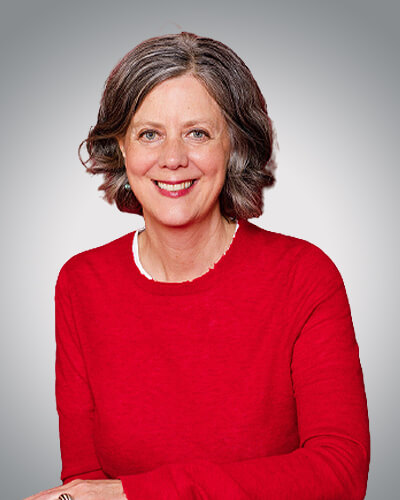 "It was incredible to see just how much we could achieve together remotely. This type of work would normally involve a lot of face-to-face time which unfortunately we didn't have due to the pandemic restrictions. However, it was brilliant to see how efficiently we could work together with the KAUST team and how extensive our field research and project development could be using Sprintbase."
Jane Pritchard, Director, Treehouse Innovation
Phase 2
For the second phase of this work, we worked with the KAUST technical team and wider business stakeholders to define, build and design the experiences people wanted from the smart home project.
This involved bringing the internal team together with external technical providers, architects, and designers.
To help everybody understand the journey so far, we used Sprintbase to create personas based on what we'd learned about people living on the university campus, setting out what matters to them and what they want from their home environment. We then used storyboards – created by illustrator Danny Burgess – to bring their stories to life and help everybody visualize what the experience of living in these homes might be like for different individuals.
We were then able to invite the distributed technical team into Sprintbase to build out the technical solution blueprints on shared whiteboards, always checking that the solutions being built matched the customer needs illustrated in the storyboards. In addition to the set of design principles developed in phase 1, three principles were incorporated: Residents privacy and integrity are of the utmost importance; Compliance with laws, norms and standards; and Reliability and Maintainability.
We finished up this phase of the project by mapping out all the solutions proposed for implementation, prioritizing those which would be implemented in the first build, those that we would hold for future builds, and those that required further experimentation before committing. As we write, the solutions are being built into the first KAUST Smart Home, due for completion in summer 2021.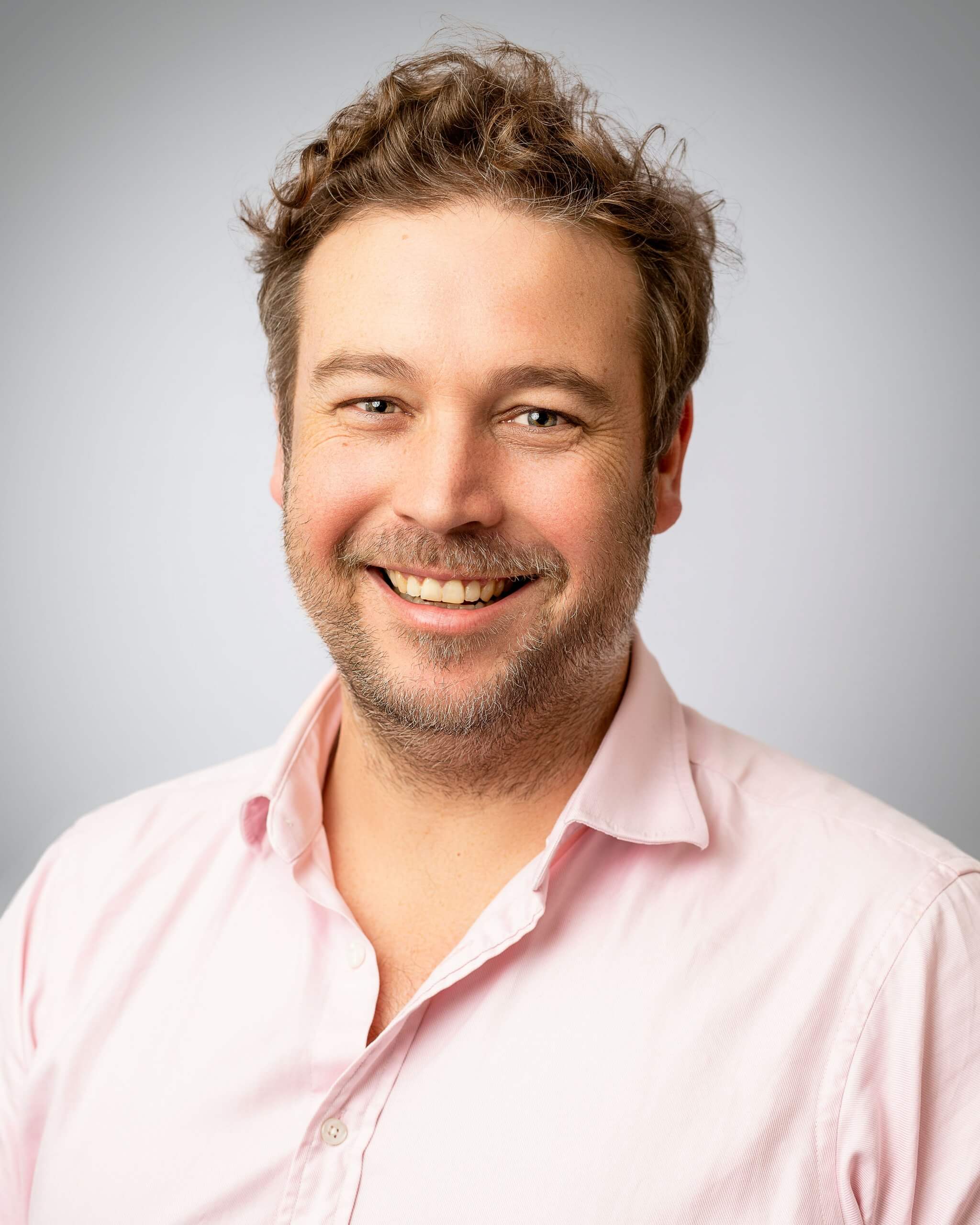 "Working together remotely actually helped us build a stronger team with KAUST. We were all in the same boat, learning to work in an entirely remote environment, with our personal and professional lives suddenly crossing over. It helped deepen our connection and trust with one another, and build real empathy with each other's situation. That persistence and optimism carried through to the project itself and led to even greater outcomes, I think."
Duncan Brannan, Partner, Treehouse Innovation
"When the Design Thinking process was introduced to us (the execution team), we were uncertain of the added value that may result from it, especially, that it was going to be done virtually. However, the inputs received from the KAUST Community offered new perspectives that may not have been considered at first, their contributions were instrumental in the design of the home. KAUST Community now share ownership of the final output of the home."
Said H. Albader, Program Manager, Mega Projects, KAUST Facilities Management