Why law firms need design thinking now more than ever
Every article about law firms and innovation starts in the same way.
They talk about the pressures the profession is facing: new competitors with alternative business models, regulatory changes, the expanding nature of the in-house counsel role, technological disruption, growing client expectations, and so on…
And that's all correct. There's a vast amount going on right now that means firms cannot afford to keep working as they always have. They need to find new ways to stand out from their competitors.
But rather than focusing on a problem which has been well documented, I want to talk about why innovation, and particularly design thinking, is a key part of the solution.
Design thinking is an approach to innovation used by the likes of Google, Procter & Gamble, IDEO, Apple, and more, which puts people at the heart of innovation. It enables organisations to more deeply understand what their customers care about, so that they can create innovations they will value.
For law firms, this kind of approach is key to helping them ensure they stay ahead of the game and give their clients what they want. Here are four reasons they need it now more than ever.
1. Law firms are facing disruption, and so are their customers
Law firms aren't the only ones facing relentless change, their clients are too, and firms have a vital role to play in helping them navigate it.
Design thinking is ideal here, because it's all about working hand in hand with your clients to identify what they really need – even when they don't yet know themselves.
To add real value, lawyers need to be able to move with their clients through uncharted waters. They need to understand not only their legal requests, but their business needs. They need to know how to dig beyond the issue their client is bringing to them, exploring their personal goals, market conditions, and wider motivations and pressures, and identify how they can add greater value.
It's not simply about having practices throughout the firm that cover every likely issue a client could face, it's about being able to offer something beyond those standard approaches.
Clients don't just want to be told what their options are, they need lawyers who can help them develop new, creative strategies that take into account everything they're facing, and help them grow their business in a volatile world.
2. Understand deeper client needs, uncover bigger opportunities
Understanding their clients and what they need is at the heart of every successful law firm. Adopting design thinking helps firms build on these connections, develop deeper insights and learn what more they can do to add value for their clients.
With design thinking, lawyers learn how to gain real, meaningful empathy by exploring the problem at hand more deeply in partnership with their clients, generating new ideas, putting together rough prototypes and testing them out.
To offer clients something new that could really take their business forward, lawyers have to take that uncomfortable step into the unknown, and inspire their customers to come with them.
This approach requires lawyers to be vulnerable and honest with their clients about the fact that they won't get to the right answer straight away, but that by remaining open and curious, they will end up with a better result.
This move outside of your field of expertise can feel daunting for anyone, but for the legal profession – which is all about eliminating risk and uncertainty from any situation – it can feel especially so.
But with such vast pressures on the industry, firms have no choice but to lean into this way of working. With many legal services becoming commoditized, firms' core earnings are being squeezed, as competitors come from all directions.
If law firms are going to stay competitive long term, they need strategies that not only enable them to compete on transactional work, but that also empower their people to spot opportunities to help clients solve the more complex challenges they're facing.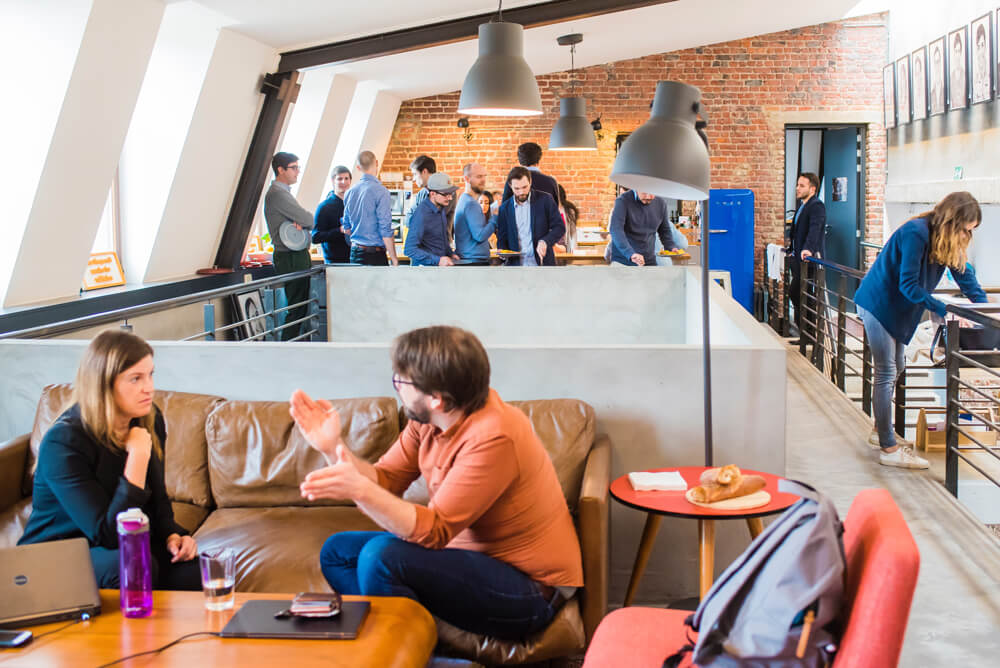 3. Build the future you – and your clients – want
This is going to sound obvious, but the reason there's so much uncertainty right now is because nobody knows what the future is going to be like. And the reason no one knows, is because it hasn't been created yet. So why not make a start?
Law firms – like all businesses – cannot afford to wait and see what happens and then respond. They need to play a proactive role in shaping the future they want to operate in.
Firms have a huge opportunity to understand the changes their clients are going through, to explore what kind of services they need, to learn how they want to interact with them in the future, and then to build a truly client-centred business model.
Whilst admitting that they don't have all the answers may feel daunting for lawyers, taking this exploratory, empathy-led approach will give them the insights and ideas they need to drive the change that will lead to better client support in the long term.
4. Commit to a culture change and reap the benefits of a new way of working
Some of the world's leading law firms have started to embrace design thinking, and we've seen great examples of the incredible results it can help them achieve.
Success with design thinking in a legal context – and indeed any context – requires true commitment at every level of the business. It's not just about running some training or a design thinking workshop; real, innovative results happen when firms commit to breaking old habits, adopting new tools and mindsets, and fundamentally changing their culture.
Such culture change means adopting new habits, reflexes, and go-to approaches to solving problems. It means developing a mindset shift across the firm that changes the way day-to-day work is done. It's not a quick or an easy process, but when firms get it, the pay-off is huge, and the change is palpable for both clients and employees alike.
Design thinking empowers firms to give their people the space they need to broaden their relationships with clients, unleash their creativity, and tackle challenges in a whole new way. Bringing design thinking to the heart of the firm successfully leads to happier clients and happier teams too.
In an increasingly competitive market, law firms need to be brave, step out of their comfort zone, and embrace new ways of working. When firms adopt new approaches, they learn how to inspire their clients to do the same, and they discover that the potential benefits for everybody involved are endless.
We help law firms around the world, including DLA Piper and Slaughter and May, drive growth with design thinking. Let's chat about how you can do the same.