KAUST: Creating the smart home of the future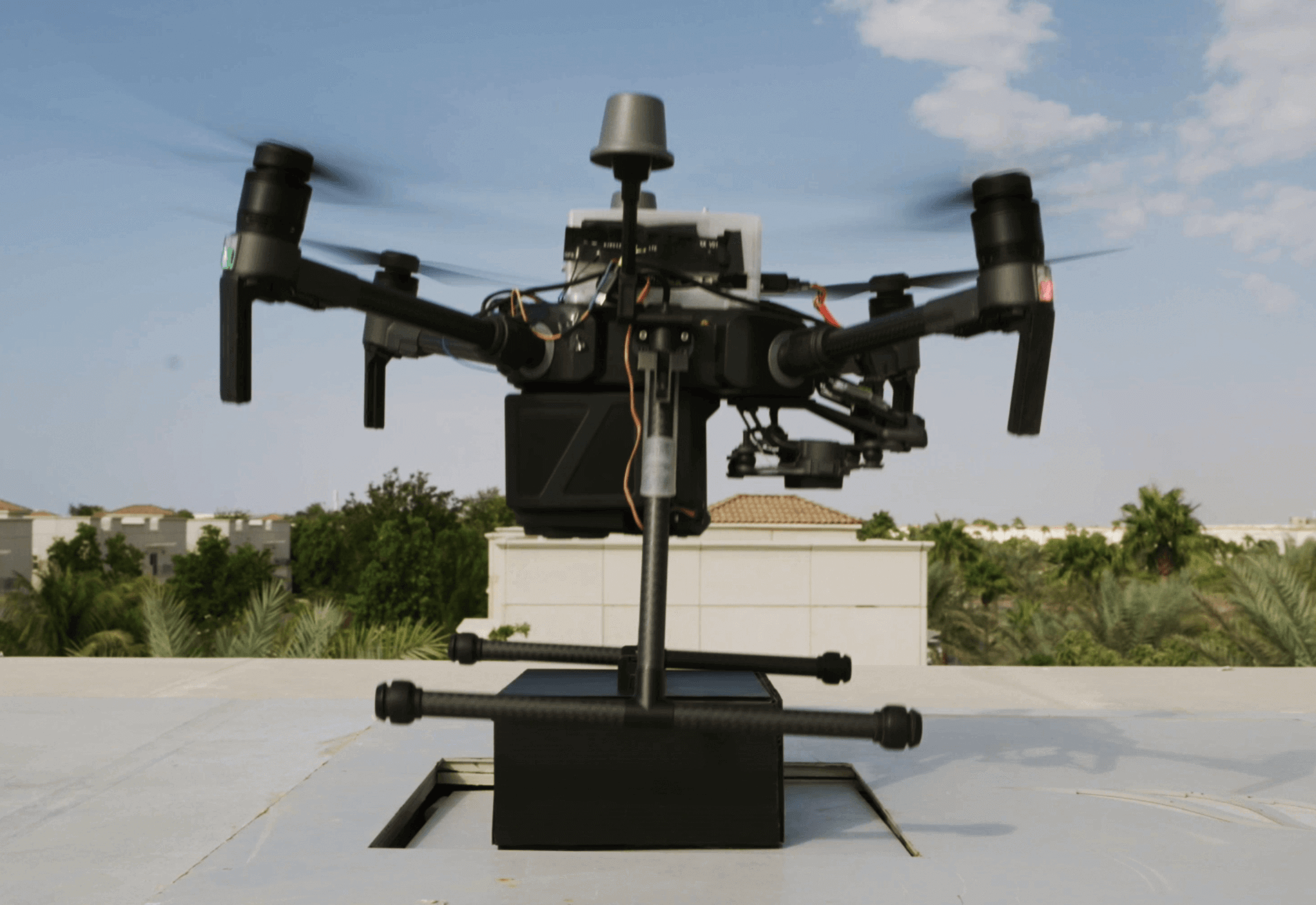 Located in Thuwal, Saudi Arabia, banked by The Red Sea, The King Abdullah University of Science and Technology (KAUST) is a future-focused institute known for seeking innovative solutions to complex problems. The KAUST Smart Team, already capable innovators having been trained by the experts at ExperiencePoint, wanted our help with their next big project.
On the KAUST campus, there are approximately 3500 homes for international residents, which include students, faculty, and family members from about 100 different countries.
The KAUST team presented us with an exciting opportunity: To help them design an ultra-modern campus residence based on the wants, needs, and aspirations of their large and diverse current group of residents.
What we did
We invited more than 75 people, including students, faculty, and family members, to be involved with this project. We introduced them to the innovation process and the purpose of the project.
Together we explored: How might we provide all members of the community with a useful, intuitive, adaptable and delightful smart home experience?
We conducted in-depth interviews with the current tenants (12 solo and eight group interviews) and gained a greater understanding of their ideal residence. The project took place in 2020 during the height of the pandemic, so all the interviews and brainstorming sessions were held online. In these sessions, residents described the issues they faced with their current housing, as well as their aspirations for them after the rebuild.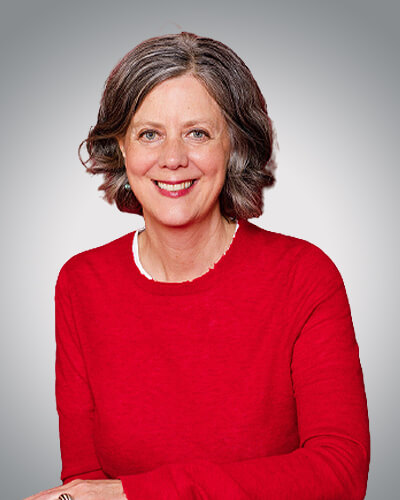 "It was incredible to see just how much we could achieve together remotely. This type of work would normally involve a lot of face-to-face time, which unfortunately we didn't have due to the pandemic restrictions. However, it was brilliant to see how efficiently we could work together with the KAUST team and how extensive our field research and project development could be using Sprintbase."
Jane Pritchard, Ex Director, Treehouse Innovation
Using the remote innovation tool, Sprintbase, we documented our findings, and creating detailed profiles and personas. Participants uploaded pictures and videos to Spintbase, highlighting any positive or negative experiences and emotions in relation to their current living experiences. After consolidating all our insights into one workspace, we spotted common concerns among residents.
An obvious issue was the heat. People shared stories about how they dealt with the extreme weather: one resident covered his windows with wrapping paper to try to keep cool, and another shared pictures of their surplus of fans. Many residents found they couldn't use their outside space because they were too exposed. It was a common consensus that any new campus residence should have outdoor living spaces with shade.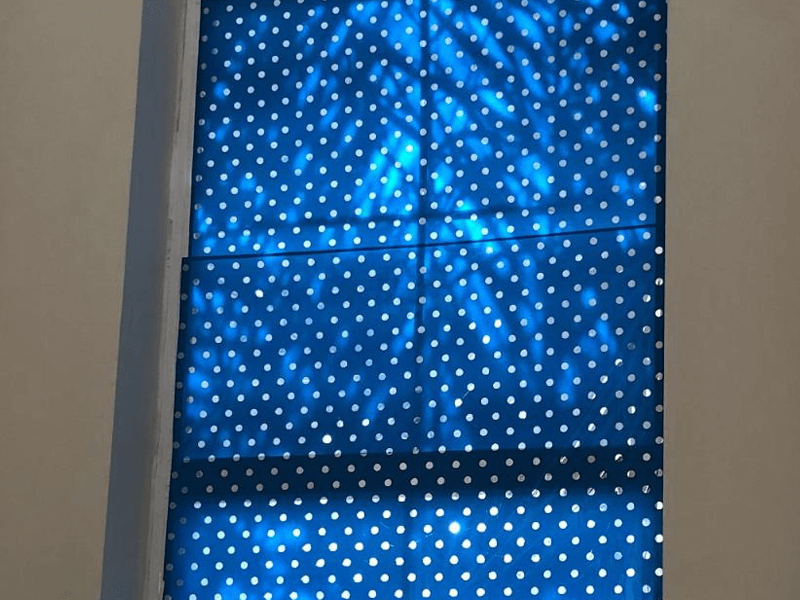 Working with residents also revealed some surprising insights. During the early stages of the project, the potential for keyless entry into buildings came up, to everyone's excitement. People would have doors that used facial recognition. However, when speaking with residents, we learned that they left their doors unlocked. The neighbourhood is completely secure and, as a result, they're not worried about security, so this wouldn't be as much of a benefit as the team thought.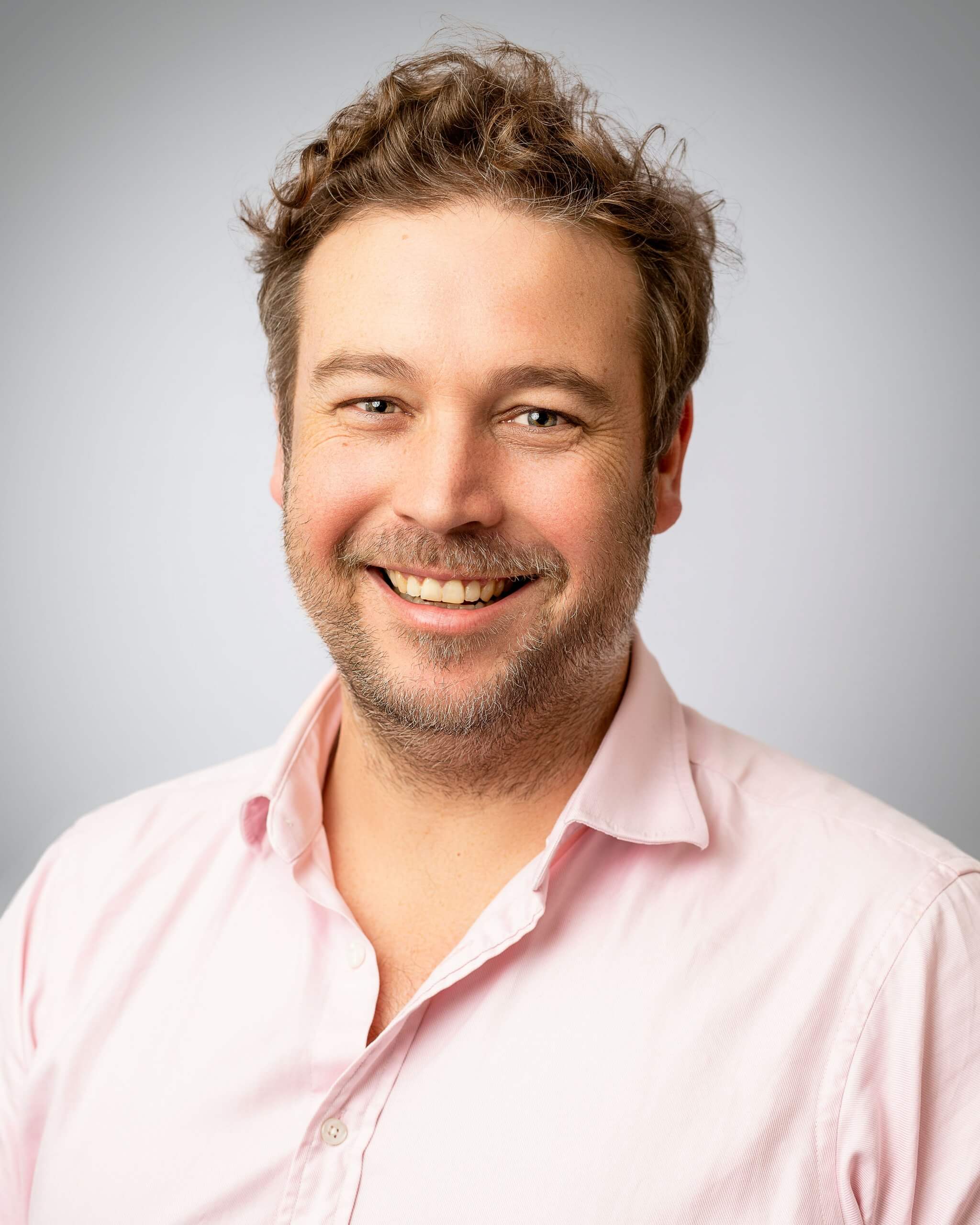 "One of the things that stood out most to me about this project was the willingness of the community to engage with this project, and the openness and transparency of the KAUST team with its residents. It was fantastic to see and had a huge impact on the depth of insights we were able to develop."
Duncan Brannan, Partner, Treehouse Innovation
Generating ideas
Now it was time to use what we learned about what really mattered to the community as a springboard for ideas that could inform the design of the smart home.
The most common concerns voiced by tenants informed our six definitive design principles: Efficient management of resources; Connection to nature to nurture well-being; Adaptation to changing needs over time; Inclusive Environment; Feel at-home customization; KAUST Community values.
These principles helped us stay true to the user insights and create a living experience enhanced by cutting-edge technology based on human-centered design.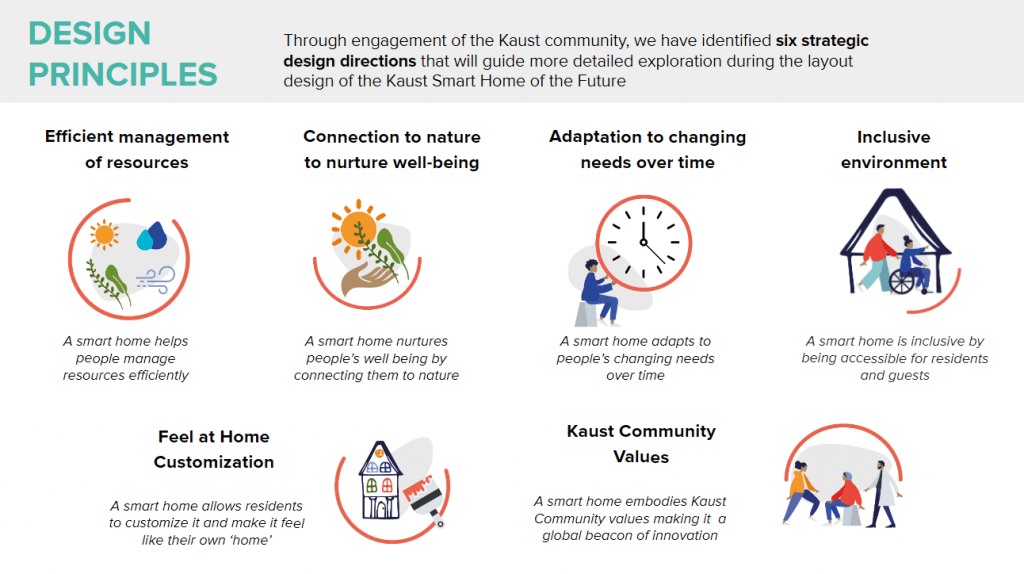 After narrowing our focus on these six guiding design principles, we moved into the 'How might we…?' phase, brainstorming how to address each issue to deliver the ultimate living experience.
During the ideation stage, we brought together various stakeholders – residents, facilities, families, and tech providers; uniting to define and create the ideal living experience.
We held an extensive brainstorming session with 60 KAUST community members, to discuss what the residence might look like. We used this opportunity to tell them how we intended to solve some of their issues with residence life, keeping them involved in the project.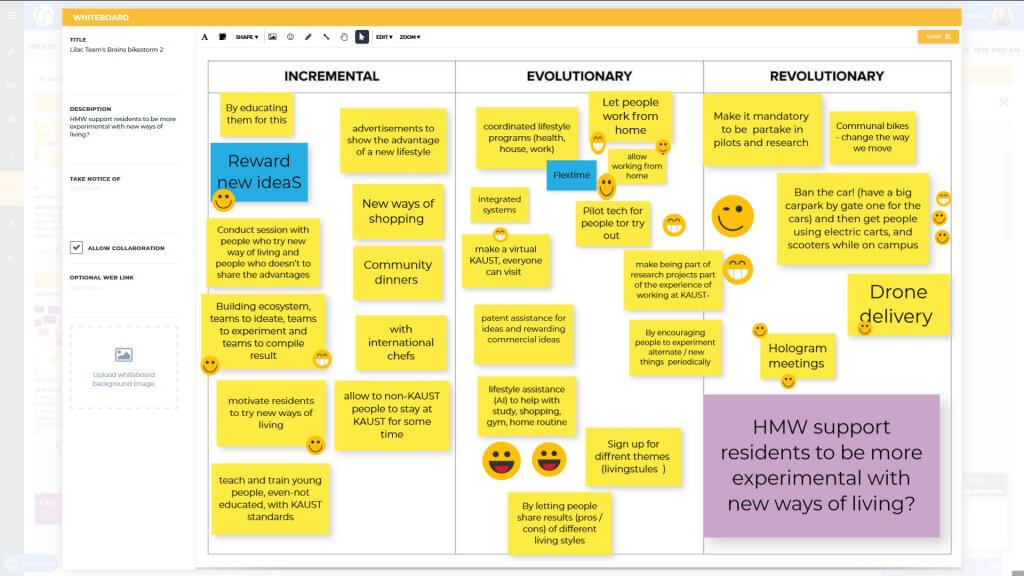 Working with the KAUST facilities team, we learned what tech and resources were available to us, determining which potential solutions were possible.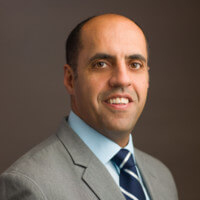 "At first taking on designing a smart home experience completely virtual was quite daunting but it really turned into a great opportunity for the community to direct their energy into something different and creative at a time where many felt the heavy impact of the pandemic."
Mohamed Abdel-Aal, Director, Digital Experience and Innovation (KAUST Smart)
Prototyping stage
Guided by our six design principles, we entered the prototyping stage. A core team of around eight people began prototyping some of the standout ideas, bringing them to life through sketches and storyboards. 50+ tech providers from around the world were brought in to explore the feasibility of these concepts, determining what was possible with existing tech and what would need to be developed or invented.
Our internal team worked with external technical providers, architects, and designers, to develop innovative and viable solutions.
We came up with the concept of indoor green spaces to allow residents to maintain a connection with nature year-round, incorporating greenery into the design.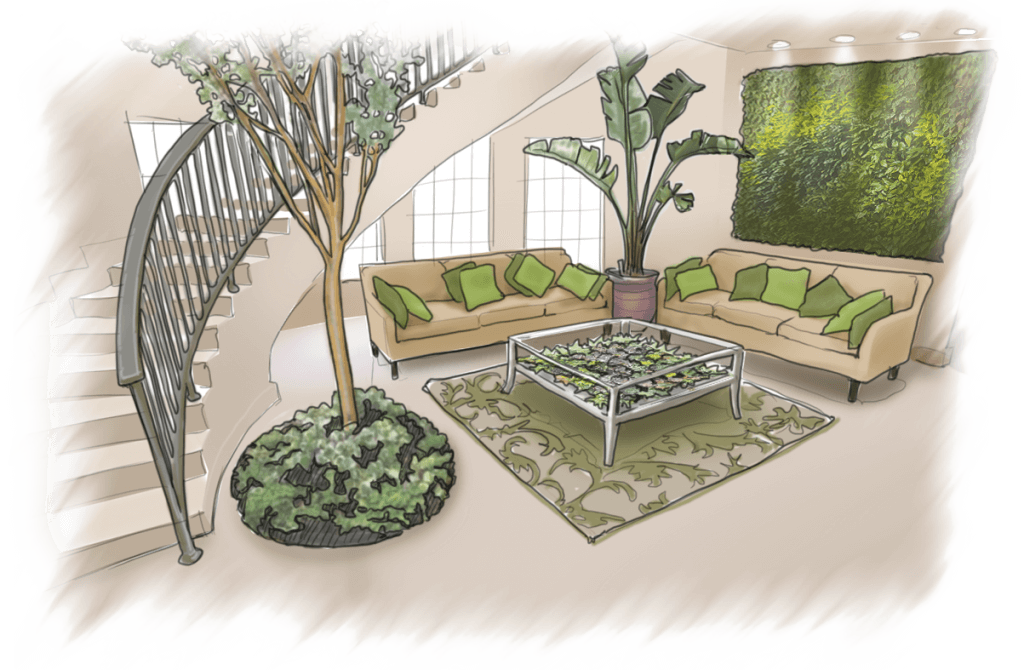 To help residents enjoy the outdoors, the team developed the concept of "cool outdoor sitting areas" – terraces built into the ground to insulate them from the heat.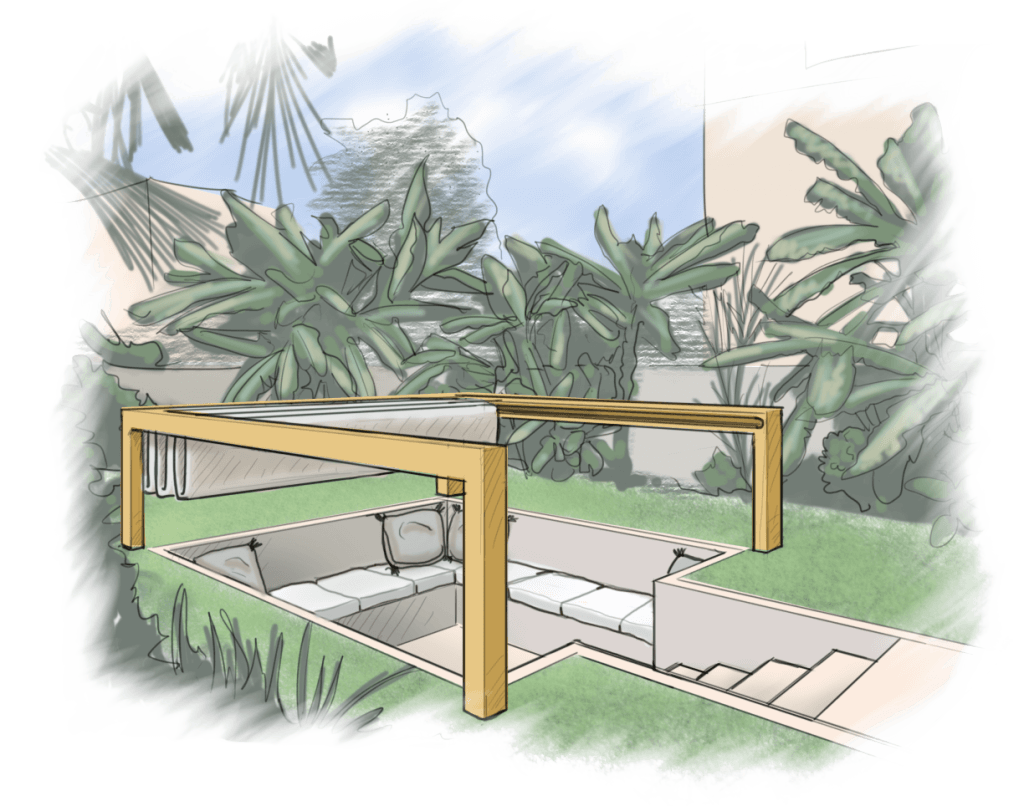 Windows that adapt automatically to the sun's orientation was the team's solution to managing heat build-up without sacrificing daylight or a view.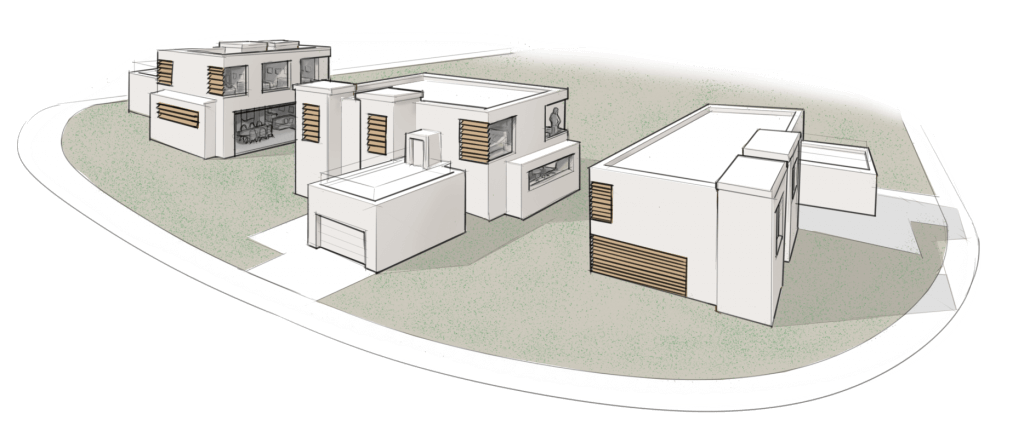 Looking for a way to provide natural sunlight and passive ventilation to the homes efficiently, the team landed on sunlight shafts.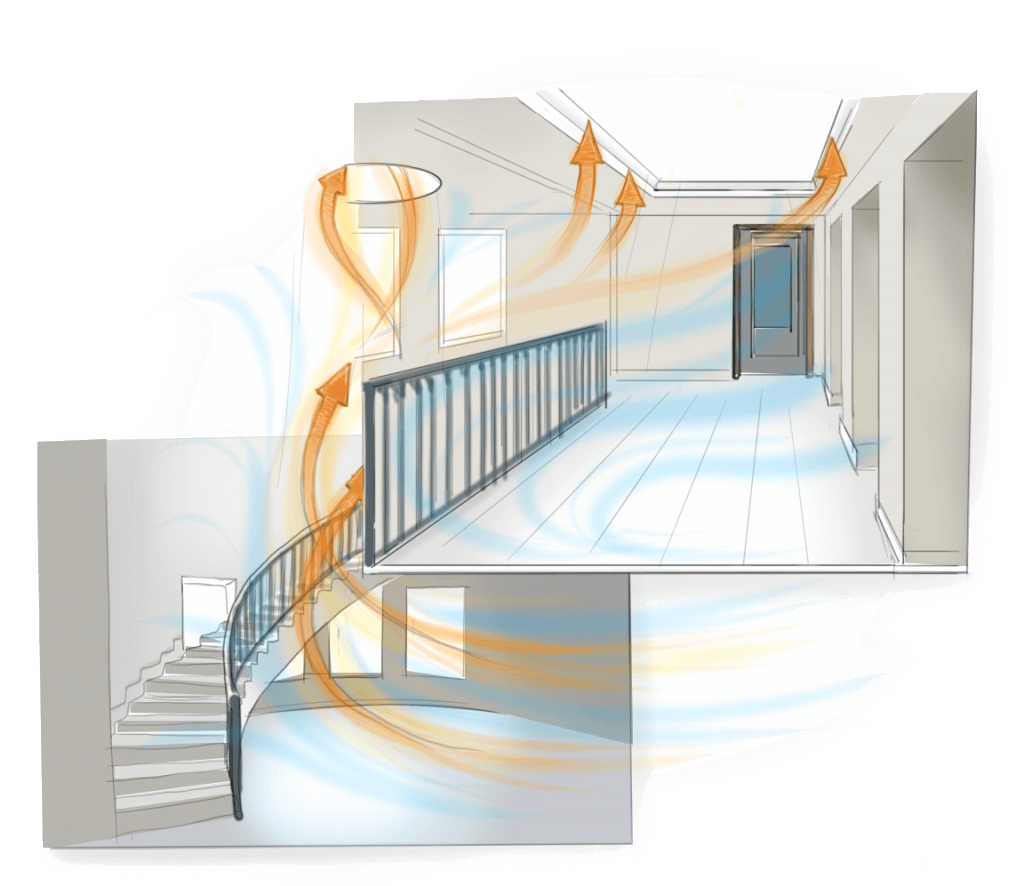 The team suggested several improvements for the balconies to make them more liveable, including retractable pergolas and blinds.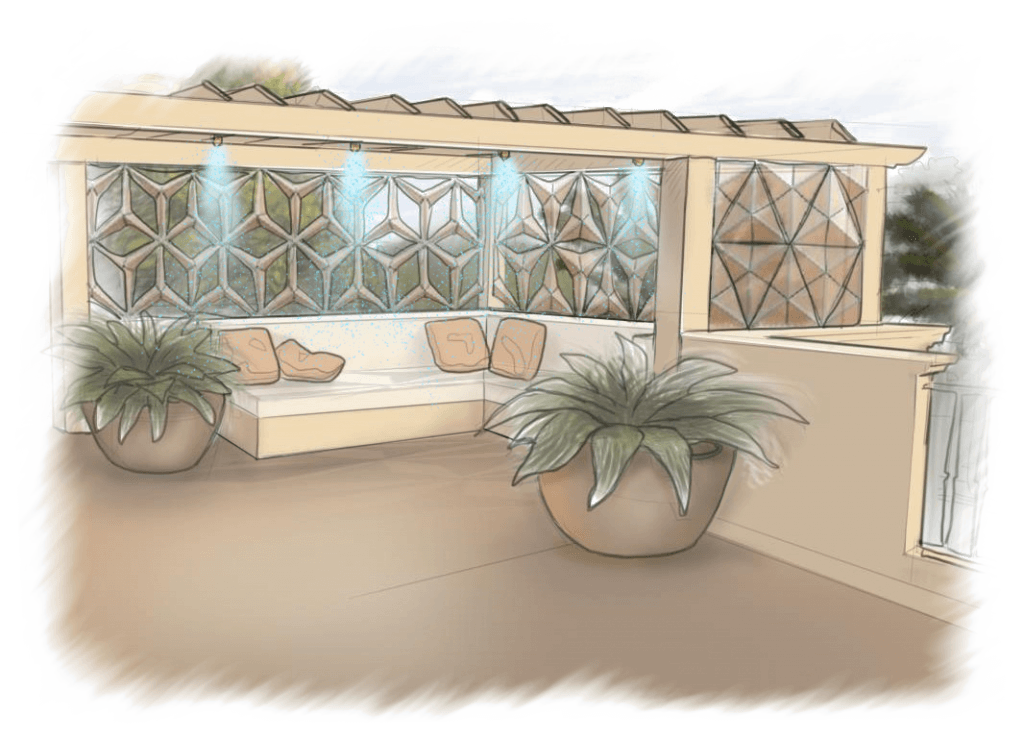 To help KAUST residents make their houses feel more like homes, we explored the concept of customisable living spaces. The ground floor would be an open space with moveable walls.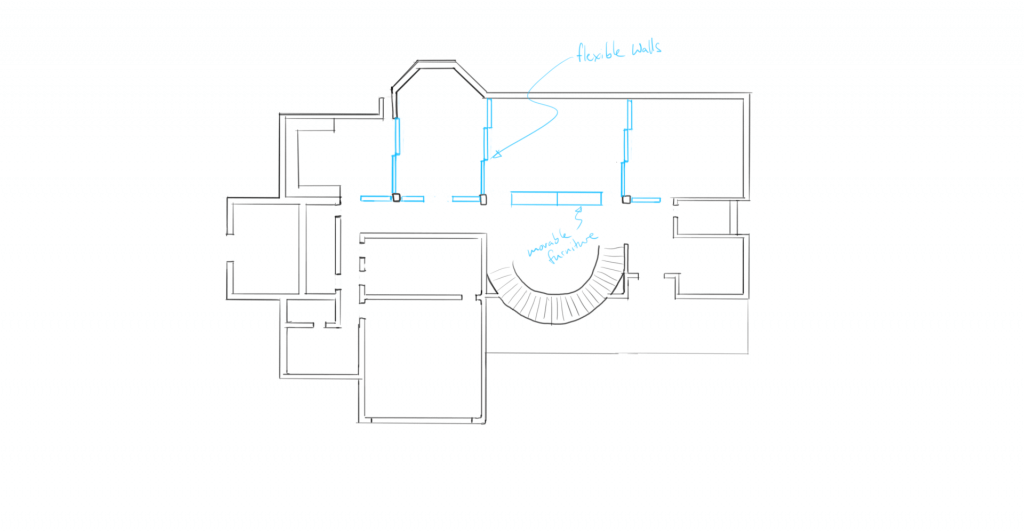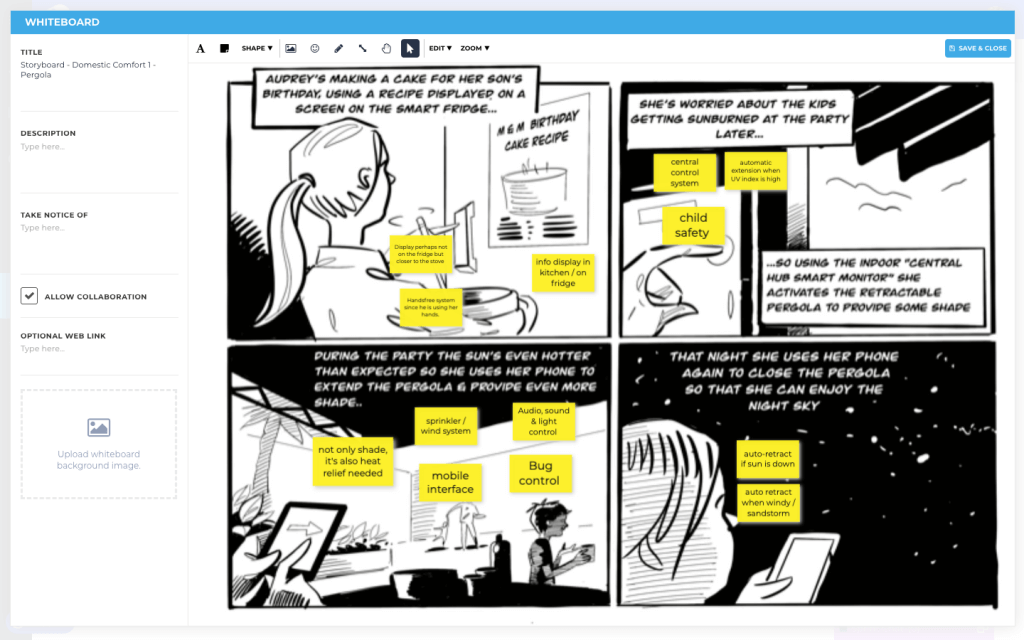 Our solution for making it easier for residents to adapt their homes based on their needs was rentable home extensions. Tenants could order temporary lounge spaces or guest bedrooms.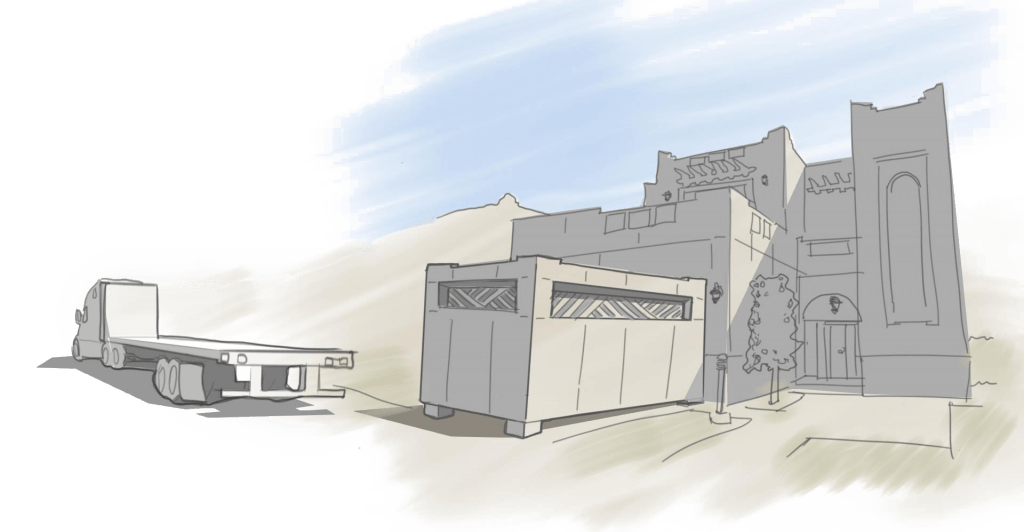 We held several meetings with stakeholders for feedback. Residents gave their thoughts on the prototypes' desirability; the facilities team and tech providers commented on feasibility and viability.
We finished this phase of the project by mapping out all the proposed solutions, prioritising those that would be implemented in the first build, those that we would hold for future builds, and those that required further experimentation before committing.
The outcome
We would like to thank the KAUST team who worked with us throughout the project and were committed to creating a future-forward living experience that met the wants and needs of their community. Creaholic, an engineering consultancy we partnered with in the later stages, also played an invaluable role.
Two years after the start of this massive project, The KAUST team has successfully built their new state-of-the-art smart homes based on everything we did together. The homes were designed to be near net zero and received a LEED platinum certification. You can find out more about them here https://smart.kaust.edu.sa/experiences/smart-home
"When the Design Thinking process was introduced to us (the execution team), we were uncertain of the added value that may result from it, especially, that it was going to be done virtually. However, the inputs received from the KAUST Community offered new perspectives that may not have been considered at first, their contributions were instrumental in the design of the home. KAUST Community now share ownership of the final output of the home."
Said H. Albader, Program Manager, Mega Projects, KAUST Facilities Management
Drop us a line to discuss the learning objectives you have for your people with one of our training specialists.